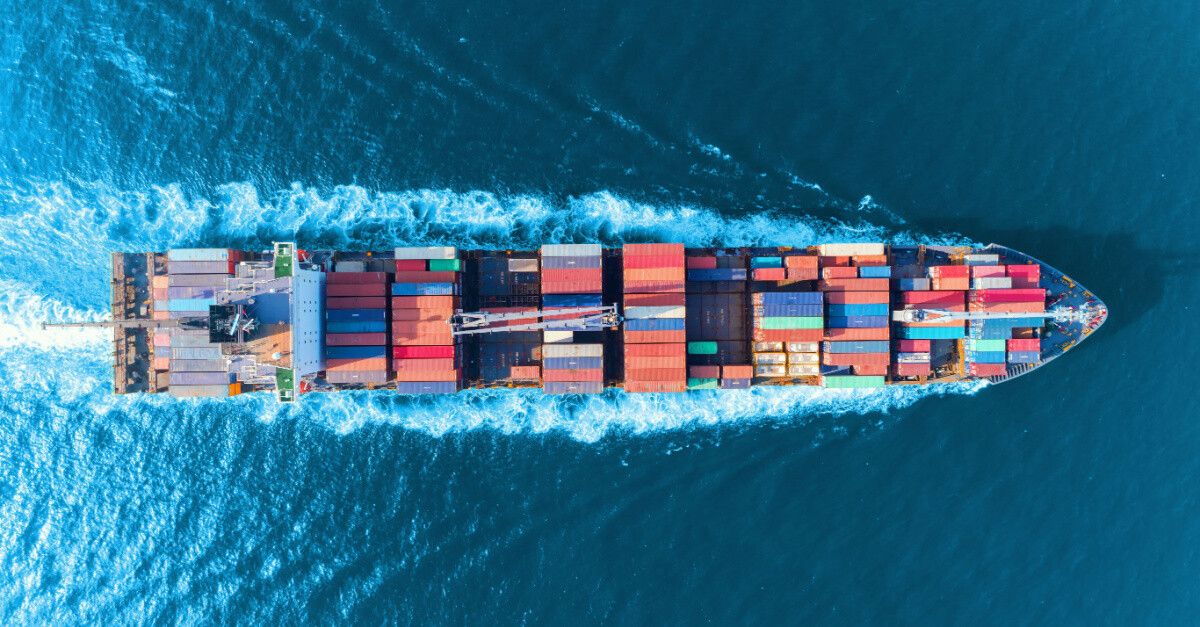 Harnessing the Power of Searoutes API for Sustainable Freight Forwarding
In the current market, it has become critically important that freight forwarders strategize how they stand out in the industry to thrive as a business. Forwarders are seeing increased competition—underlined by M&As and a series of activities from ocean carriers buying into freight forwarding companies, adding their own aircrafts etc., with the aim to cut out the middleman. All of this is happening at a time where freight rates are dropping severely, putting price strategies under additional pressure. According to Drewry's World Container Index, prices on major East-West trade lanes for the beginning of June 2023 have dropped around 78% YoY.
The ability to provide exceptional value now goes beyond mere pricing, and freight forwarders must adopt an intentional strategy to differentiate themselves in the market. A significant industry-wide shift is underway, with customers increasingly prioritizing sustainability and environmental responsibility, and many need extra direction and guidance on decarbonizing their supply chains. This presents an opportunity to provide customers with sustainable freight forwarding.
Today, we're discussing the potential for sustainable freight forwarding to attract and retain customers and the different pieces of this strategy that forwarders need to get started.
Attracting Customers with Sustainability Tools
When thinking about offering sustainability to freight customers, the first thought might be to provide it completely productized, but this isn't the only option. Freight forwarders can provide simple sustainability tools to avoid the complexity of taking over navigating sustainability for their customers. Instead of getting into the details and decisions, freight forwarders can provide customers with carbon emissions data, giving them the added sustainability variable within their decision-making processes. At times, other priorities like shipping speed and cost might win out over the greenest shipping options.
Many companies have reduction goals for their supply chain departments. They might not purchase a product that is $100 more expensive if it only yields a 2% reduction of emissions, but they will if the reduction potential is +20%, as this helps them reach their goals not only in the supply chain category but also for the entire company, as a tremendous share of active reduction.
By offering sustainability tools, freight forwarders allow the customer to retain their control over these decisions. As an added benefit for forwarders, this makes for an easy way to extend a sustainability-minded service to customers.
One option to put control and visibility in the hands of the customer is to offer a carbon calculator. Customers can enter shipment information and receive data on the associated carbon emissions. They get the ability to weigh variables, test different options, and ultimately make the decisions themselves from an informed position, approaching their sustainability goals as they best see fit.
Another tool that freight forwarders can offer is a carbon footprint planner. This tool can estimate the total environmental impact of customer purchases on a broader scale than the carbon calculator, providing the ability to eliminate carbon emissions by network optimization. Similar to freight forwarders using the carbon calculator to highlight their green initiatives and showcase their commitment to sustainability, the carbon footprint planner can also help shippers improve their reputation with their customers, who want to be informed about their environmental impact.
Case Study: Improving Customer Experience Through Sustainability
A forward-thinking freight forwarding company, Greener Freight Company, otherwise known as GFC, decides to use its sustainability-focused company values to improve the customer experience. Seeing the increasing demand for eco-friendly transportation options, GFC decided to use Searoutes API to introduce a carbon emissions calculator, providing added value to its customers. Through its user-friendly platform, GFC allows customers to calculate and understand the carbon emissions associated with their shipments.
As more businesses learned about GFC's tool for green solutions, they attracted a growing number of environmentally conscious clients. Companies from various industries appreciated the commitment to sustainable practices and the calculator's transparency, while GFC became known as a trusted partner.
Retaining Customers through Accurate Reporting
Freight customers investing in their carbon emission reduction seek the ability to make informed decisions. For freight forwarders, this means providing accuracy and standardized data. The customer might not know one data methodology from another, but if a few months down the road, they see less of a reduction of emissions than expected despite their efforts, they have the data and methodology to look to for answers. Accurate emissions data not only improves decisions but also builds trust with customers.
Case Study, Continued: Data Methodology Provides Accuracy & Precision
To extend carbon emissions data to their customers, GFC implements a robust data methodology provided by Searoutes to ensure their data accuracy and precision. They adopt transparent reporting practices, providing customers detailed carbon emissions data and complete visibility. Using a GLEC-accredited methodology, as with Searoutes, GFC has proof of its dedication to quality data, which increases confidence and credibility for its customers and contributes to higher retention. Customers can authenticate their carbon emissions for reporting purposes and for their own customers.
Advancing Business Growth with Footprint Analytics
More than simply providing emissions data, freight forwarders can provide hotspot carbon accounting, in other words, using footprint analytics to help customers identify the areas most important for them to focus on. This type of tool can inform strategic decision-making by revealing the most significant contributors to carbon emissions and the biggest opportunities for reducing emissions. This footprint analytics provides customers with insightful data to set targets and plan for future shipments more effectively to yield the highest impact.
Case Study, Continued: Emissions Data Prompts Change in Supplier
With the information provided by footprint analytics from Searoutes API, GFC's customers can set realistic emission reduction targets and develop actionable plans to achieve them. When a particular trade lane was identified as a major source of emissions, an GFC customer decided to change their supplier. By having access to this detailed information, the customer saw their emissions decrease over the next reporting period, which they attributed directly to this decision. The value of this tangible proof for the customer can ultimately lead to increased business for GFC.
Offering Sustainable Procurement
Freight forwarders can further support their customers' efforts by giving them the tools to manage and balance their procurement. In providing insights on the trade-offs between cost, service, and sustainability, they enable their customers to make strategically balanced decisions that align with their specific objectives and priorities. Going deeper than surface-level decisions and adjusting routing and modes of transportation, customers can benefit from an optimized network while aiming their tendering processes at sustainability according to their goals.
Case Study, Continued: Sustainability Requirements Attract Like-Minded Suppliers
Another GFC customer decided to incorporate carbon emissions criteria into their tenders with the tools offered by Searoutes. By stating specific sustainability requirements as part of their procurement process, this customer sends a strong message to potential suppliers of their commitment to sustainability in the decision-making process. This approach not only ensures that the customer selects suppliers who meet their criteria but also encourages suppliers to prioritize their own environmental performance. GFC plays an essential role in making this process easier for its customers through the data they provide.
Leveraging Routing Options for Lower Emissions
Freight forwarders can provide additional value to customers in how they route shipments to lower emissions. They can use internal visualization tools designed to take the guesswork out of choosing the best routes based on carbon emissions. This tool enables forwarders to understand performance compared to the benchmark and helps customers set goals for improvement. Alternatively, freight forwarders can create a user-friendly interface for the customer that highlights green product options, making it easier for them to choose sustainable solutions.
Case Study, Continued: Informed Decisions Optimize Efficiency, Reduce Emissions
With Searoutes API, GFC successfully reduces emissions for its customers through strategic routing choices. GFC uses its Searoutes-powered visualization tool for analyzing and comparing different routing scenarios and carrier choices, taking into account factors like cost, transit time, and environmental impact. By fully understanding their options, GFC can make informed decisions that optimize efficiency and reduce emissions.
Building Trust and Reputation
Freight forwarders can build trust and strengthen their brand reputation by prioritizing sustainability and leveraging tools like Searoutes API to verify carbon efficiency. Searoutes provides real-time data and insights into the environmental impact of various shipment options, all backed by a proprietary algorithm for ensuring accurate and precise data across different modes and carriers. With this API integrated into their operations, forwarders can make lowering emissions simpler for their customers. At the same time, they show their commitment to sustainable practices as a key differentiator for their business, making them a forwarder of choice for like-minded customers.
Get Searoutes API for Data-Driven, Sustainable Freight Forwarding
More freight customers are looking to reduce the carbon emissions from their shipping and logistics, and it is not a need that will fade anytime soon. With Searoutes, freight forwarders can help their customers reach their goals, whether through simple tools like carbon emissions calculators or by working sustainability into the products they offer—even giving their customers a user interface for visualizing their options and the impacts of their decisions. No matter how it is implemented, Searoutes provides forwarders with the emissions data they need to improve their value for customers.
To learn more about Searoutes API and the potential for freight forwarders, reach out today to schedule a demo.