🔈 Catch up on our latest webinar on the integration of Searoutes' Vessel API with LuxSpace's OrbitSailor here
Harnessing the power of
reliable

vessel AIS data
Trusted by over 60 companies committed to climate action.






Steady vessel database
Our database contains over 5 years' worth of complete historical tracking data for vessels.

Clean and complete data
We perform data cleaning to eliminate noise and fill gaps in order to obtain continuous trajectories.

Trusted Satellite and terrestrial AIS
We are proud partners of Luxspace, one of the global leaders in providing space systems for AIS.

Advanced proprietary routing algorithms
Our algorithms take into account speeds in passages & canals, as well as vessels specific routes.
Comparative Analysis
Noisy raw AIS data vs Clean Searoutes AIS data
Our AIS data is both terrestrial and satellite.

Our system gets updated every 5 minutes.


We have a remarkable 99.9% uptime that guarantees uninterrupted and smooth operation of your platform, check out the status  https://status.searoutes.com/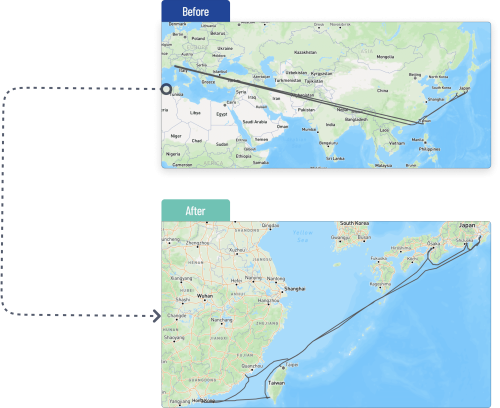 Api-drive solutions for data-driven solutions
Robust vessel and AIS APIs designed to enhance tracking visibility
Retrieve the historical trace information for a designated vessel

This API will give you the historical trace of a given vessel between two dates in the past, along with the average speed and the route characteristics.

Access over 5 years of complete history, to get an accurate and complete picture at any time.

Fetch the current position of a vessel

Retrieve information from AIS and return general information about the vessel together with its last known position, its last known speed and its current draft.

Get a predictive vessel ETA to the next port of call

Based on the IMO of the vessel, this API will retrieve an ETA to the next port of call, predicted by our algorithms, as well as the vessel information:
Its current speed, its current draft, its last position, and its destination.

Our proprietary routing algorithms take into account maximum speeds in passages & canals, vessels specific and draft dependent routes. We mix them with AIS data to make accurate predictions of arrival time.

Get vessel information by name

This API will provide you with details on vessel dimensions, IMO numbers, maximum draft, current speed, heading, course over ground, and draft.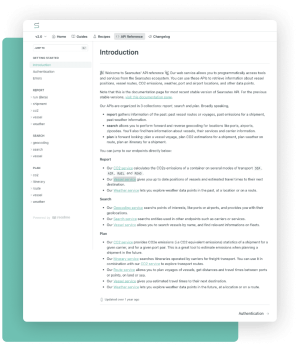 documentation that goes beyond the essentials
Navigate into our comprehensive API documentation

Strategic partnership
TRUSTED DATA, FROM ONE OF THE LEADING SPACE SYSTEM PROVIDERS.
Searoutes has partnered with LuxSpace a global leader in Automatic Information System (AIS) and enables to identify, localise and track ships in near real-time around the world.
"Searoutes creates real added value from our LuxSpace AIS data. We are proud to be a partner for innovative solutions for the maritime industry."