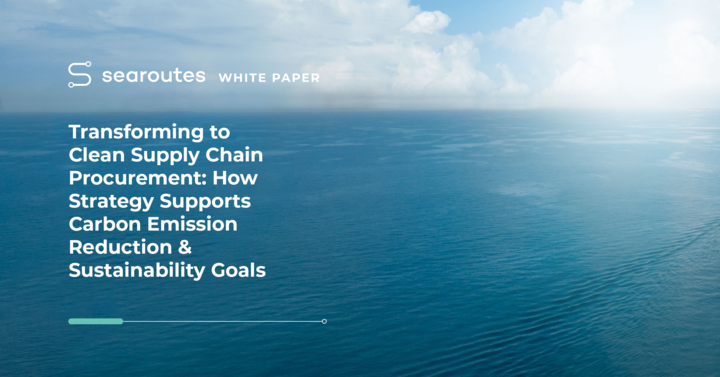 How to Reduce Carbon Emissions with Clean Supply Chain Procurement
To effectively reduce carbon emissions and improve sustainability, shippers and freight forwarders must carefully consider the strategies and practices they use. One methodology of carbon emission reporting leads to the greatest degree of accuracy, while two others can hinder progress made toward carbon emission goals. With the right methodology driving the data, analytics can then reveal steps to take for greener operations. In particular, clean procurement planning should be the strategy of choice for reducing Scope 3 carbon emissions in the supply chain.
The Importance of a Strategy for Scope 3 Emissions
There are three categories of carbon emissions reporting. Scope 1 emissions are from sources owned and directly controlled by an organization. Scope 2 emissions are from the purchase of electricity, steam, heating, and cooling. Scope 3 emissions are indirect emissions that occur within the value chain but are not under the direct control of the reporting organization. These can include purchased goods and services, transportation, distribution, leased assets, and the use of sold goods.
Any organization that wants to improve its carbon footprint must consider its Scope 3 emissions, as this is by far the largest category of emissions for most companies and is also increasingly included in legislation in the EU (like the CSRD) and U.S. (as the work of the EPA and SEC). Within Scope 3, transportation and distribution have an often untapped potential to produce significant results. Using accurate data to inform decisions, procurement planning through the lens of sustainability can be a low-effort and high-impact strategy.
The Importance of Data Accuracy and Understanding the Fallacy of Averages
Before addressing procurement planning, it is important to understand the methods of collecting carbon emissions data and how this can affect the results. There are three available methods: primary data, default data, and modeled data, and using either of the first two can cause incomplete or inaccurate reporting that prevents organizations from getting meaningful insight and even from showing the sustainability progress they have made.
Primary data is exact data that is directly collected from the source. Shippers and freight forwarders rely on transportation providers to supply this information.
Default data is composed of approximated values based on the historical averages of primary data.
Modeled data combines detailed data from multiple sources to generate highly specific emissions numbers.
Each has pros and cons, but the cons of primary and default data are not compatible with accurate carbon emissions reporting. One problem with default data is its use of averages. The fallacy of averages perfectly illustrates why this is an issue—the average of a collection of data points is almost definitely not the value of any one particular data point. (In our latest white paper, we go into more detail on this concept, including an example of ocean freight carbon emissions.)
How Technology Helps Procurement Planning
With an accurate data methodology plus detailed raw data fed into the model, shippers and freight forwarders can get an analysis of their freight-related carbon emissions. By identifying their biggest emissions sources and having the data on their options, they can make changes to their freight procurement, which will drive results.
APIs (application programming interfaces) help support these decisions by providing real-time data Integration with an organization's system of choice or powering an easy-to-use dashboard.
Providing increased visibility into factors that impact emissions and freight procurement, organizations can improve their route planning and scheduling. They can respond quickly to new information and better inform their decision-making to meet sustainability goals.
Get Steps to a Clear Strategy in Our Latest White Paper
Accurate measuring and reporting on carbon emissions and supply chain sustainability may be a complex undertaking, but Searoutes strives to simplify the process. Searoutes provides carbon emissions visibility solutions for shippers, freight forwarders, and BCOs. With advanced modeling methodologies and proprietary algorithms provided through our API, we help companies understand their plan of action toward sustainability and reducing carbon emissions for all modes of transport, including ocean, air, rail, and road.
We're diving into the options of methodologies and why there is a clear winner on how to approach carbon emissions data. Learn all this plus three steps to a strategic approach to freight procurement by downloading our latest white paper: Transforming to Clean Supply Chain Procurement: How Strategy Supports Carbon Emission Reduction & Sustainability Goals.
This whitepaper was created in a collaborative joint project with Buyco.
About Searoutes
Searoutes is a leading solutions provider of carbon emissions visibility for shippers, freight forwarders, and BCOs. As an API-first company, we help inform routing decisions with our modeled methodology and proprietary algorithms for data-driven sustainability. Searoutes is the only provider accredited by the Smart Freight Centre delivering carbon emissions per ton and TEU for all modes of transport—ocean, air, rail, and road. For more information about Searoutes, contact us at www.searoutes.com
About BuyCo
BuyCo is the leading Container Shipping Platform for ocean transportation. Designed for exporters and importers managing large volumes, the platform connects to 95% of all ocean carriers to simplify, secure, and automate daily shipping tasks. BuyCo centralizes the members of the supply chain to streamline operations and provide visibility to all parties.
Together, BuyCo and Searoutes entered into a collaboration with the CO₂NTROL Project to allow importers and exporters to achieve the following goals and have a positive impact on the planet:
Select the most CO2 efficient Ocean Carriers in the tendering process
Choose the most effective schedules and routes when planning maritime transportation
Optimize door to door transport, including inland and ocean legs
Gain full visibility on historical performance and identify alternatives that could have been chosen
Co-funded by the European Maritime and Fisheries Fund under the Grant Agreement No.863619