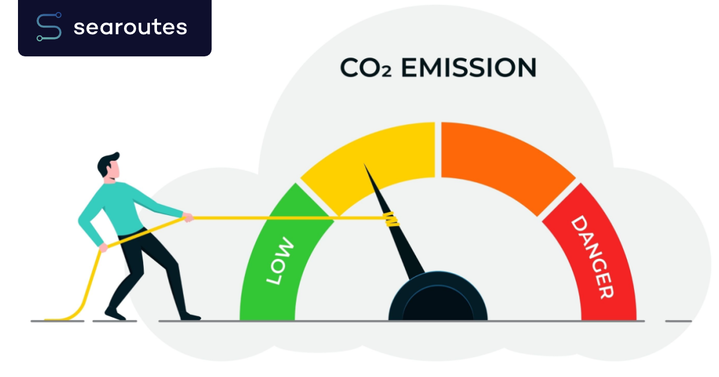 The Big Value of Data Completeness for Transport Carbon Emission Data
Did you know that a company's supply chain typically accounts for 80% of its total climate impact? For most businesses, tackling transport carbon emissions is one of the more difficult sustainability-related tasks.
But momentum toward cleaning up supply chains is picking up steam. McKinsey & Co. reports that, of the 239 companies that signed on to the Science Based Target Initiative, 94% committed to reduced emissions from suppliers.
Lowering transport carbon emissions is a wonderful goal, but it will only work if companies track their emissions. This isn't easy to do, especially in the supply chain, because of the multitude of inputs – weather patterns, vessel size, and unintended incidents en route on a haul.
That's why it's critical for companies to ensure their data is complete and trustworthy. It's a concept called data stewardship, and it's non-negotiable for sustainability.
What is Data Stewardship & Why Is It Important?
Data stewardship is the practice of maintaining an organization's data integrity. Stewardship entails keeping data safe, accessible, and trustworthy. The cloud-based platform Informatica lists the requirements of proper data stewardship as:
Knowing what data an organization possesses
Understanding where that data is located
Ensuring that the data is accessible, usable, safe, and trusted
Safeguarding the transparency and accuracy of data lineage
Enforcing rules and regulations on how data can be used
Helping the organization make the most of its data for competitive advantage
Driving toward a data-driven culture
Being an advocate for trusted data
Businesses in all sectors today are relying ever more heavily on large datasets. That's great news for companies and consumers alike, but it also requires organizations to manage and protect all that free flowing information.
Data stewardship is especially pertinent when it comes to supply chains. Today, companies need to know where their freight is, whether it's moving, and when it will arrive at its final destination. On top of that, they need access to transport carbon emissions data to report progress toward environmental goals.
And yet, Logistics Management reports that only 37% of companies have become data-driven. With increasing climate regulations and customer scrutiny, businesses will soon have no choice but to rely on data to track carbon emissions.
The Challenges of Getting Complete Transport Carbon Emissions Data
Just because tracking carbon emissions in transportation is important doesn't mean it's easy for individual companies to do. The data is almost always decentralized; let's face it, going green isn't always a company's top priority. There's a business to run, customers to satisfy, and, in 2022, a supply chain snarl will likely work around somewhere in the world. When you've got your hands full dealing with a logistics morass, or even if you're just trying to balance the bottom line, sustainability goals can fall by the wayside. And for smaller companies, carbon consciousness may seem like a luxury that's outside of the budget.
Here are a few of the most common struggles companies have when trying to collect accurate transport carbon emissions data:
Having too many tools – Sometimes, a business uses different telematics providers for different modes. They want the most accurate data and figure out certain providers have an edge with particular transportation modes. But the end result is that shippers end up with too many dashboards to monitor and too many different KPIs to track.
What's our recommendation? Dig into the methodology. Existing providers don't have access to all telematics data. Everybody works with at least some modeled inputs. The trick is finding a provider who incorporates the most granular data across transportation modes.
Accessing "real" data – Occasionally, we'll get asked if every vessel is equipped with a sensor. Unfortunately, while companies are starting to move in that direction, it isn't possible to outfit every train, truck, or ocean liner just yet.
That doesn't mean it's impossible to get accurate data. At Searoutes, we use Automatic Identification systems data collected from transceivers on ships and the actual rail network for rail data. Our methodology is accredited by the Smart Freight Centre, an international non-profit dedicated to reducing carbon emissions.
Data is spread out – Not every shipper has the bandwidth to collect much data at all, let alone carbon emissions data. It requires knowing the capacity utilization of each vessel, measuring CO2 output across all possible scenarios, and aggregating it directly.
Luckily, emissions data doesn't have to be clean, elegant, or even complete for Searoutes to turn it into something useful. Our analysts know how to fill in the gaps. We even help shippers consolidate their data, making it easier to collect in the future.
Legal implications – Say a shipper ends a relationship with a carrier based on carbon emissions data. Could that carrier sue? What if the data is incorrect?
Trustworthy data is the core of our business. And of course, sustainability is one of many considerations when picking a carrier. Speed, price, and capacity play a role in that decision too. We've found that carbon visibility empowers shippers – they aren't shooting in the dark trying to guesstimate how green a partner is.
It isn't just shippers, either. Freight forwarders use Searoutes APIs as a selling point with prospective shippers looking to lower their environmental impact. It's a green virtuous cycle!
Using a legacy provider – This one isn't exactly a struggle. But, if companies select a product based solely on how long it's been on the market, they could end up missing out. The new players often bring more accurate data or better methodologies to the table.
A provider's time in business won't necessarily line up with their data's accuracy and completeness. Instead, we advise shippers to ask how data is collected, how calculations are determined, and whether they offer proactive planning to help reduce carbon emissions.
Indifference – As we mentioned earlier, not everybody can currently prioritize GHG emissions reduction. But even companies who aren't worried about how pollutant they are will still have to contend with climate regulations on the horizon. It pays to be prepared.
The Value of Transport Carbon Emission Data
The benefits of measuring transport carbon emissions data go beyond internal company metrics. While the main goal of emissions tracking is to lower one's impact on our planet, it comes with other positive externalities. Here are a few:
Measure and Report Scope 3 Emissions – You've heard us mention this topic before. Scope 3 emissions are the pollutants generated not directly by a business but by its suppliers. Transportation providers fall squarely into that category – at present, logistics is responsible for 11% of carbon emissions. The pressure's on to change that number, with interest in sustainability growing from consumers and investors alike.
One example is US Foods. The food distributor recently announced that it will work with suppliers to reduce 32.5% of its own emissions by 2032. As more companies take CO2 reduction on, momentum towards sustainable practices will only continue to grow.
How great would it be to measure your company's scope 3 impact and accurately report it back to concerned stakeholders?
Empower the Head of Sustainability – Employees with titles like these are working to find sustainability strategies that are, well, sustainable. They're taking on a huge challenge with limited time and resources.
API technology and the data it accesses empower directors and VPs with the necessary information. Searoutes' tools do all the computational heavy lifting and provide a constant stream of accurate data. With our data, heads of sustainability and their teams spend less time dealing with spreadsheets and more time planning strategies.
Sustainability is Marketable – Younger generations aren't just thinking about sustainability in their apparel choices. Environmental consciousness is informing their professional decisions. In other words, this generation of employee prospects will judge you for your carbon footprint. Sharing sustainability plans – and backing them up with actual data – is one way to win over the most talented individuals.
Greenwashing Never Wins – Ever heard of greenwashing? Environmental journalists coined the term in the 80s to describe companies that claimed to be green but engaged in environmentally unsustainable business practices. One could claim it worked as a marketing gimmick back then, but those actions don't sit well with consumers in the age of social media and 24/7 streams of information.
But here's the rub: how do you know you're a green company if you don't have the data to tell you so? The answer is that you don't. Data completeness is essential to get the full transport carbon emissions picture. Once you have real numbers to back up your claims, you can truly call yourself green.
Tracking transport carbon emissions is closer within reach than it may seem at first glance. But to get there, it's imperative to ensure the integrity of the data. The important thing is to ensure that all data is complete, accurate, and trustworthy. It isn't possible to hit sustainability goals with incomplete data, and the climate deserves more than a guesstimate.
Instead, organizations need accurate, usable, up-to-date, and easy-to-understand data. This is where Searoutes comes in. We offer granular emissions data calculated using stringent methodologies and supported by cutting-edge technology.
It's never too soon to start monitoring transport carbon emissions. By scheduling a demo today, find out how much your business could reduce its transportation carbon footprint.