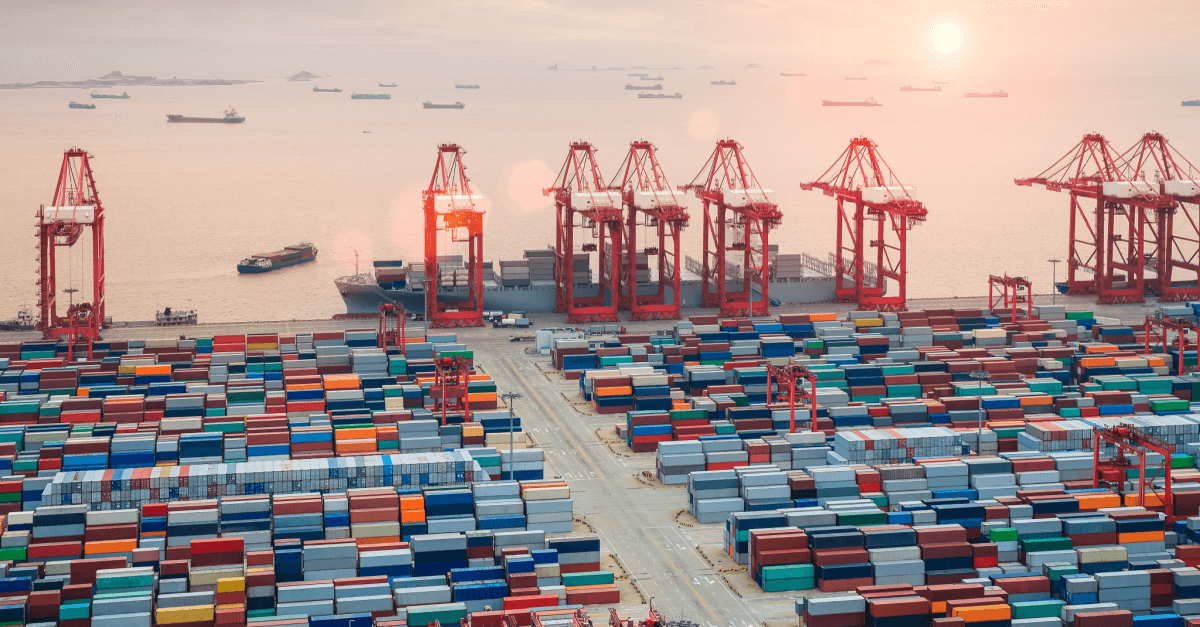 This One Tip of 11 Aids Shippers in Selecting a Freight Forwarder Focused on Carbon Emission Reduction
It's no secret that consumers now expect that the businesses they buy from are environmentally and socially conscious. According to the 2022 Retail and Sustainability Survey from the business applications firm CGS, 42% of U.S. consumers prefer to wait for a sustainably shipped delivery, over an expedited one. 34% said that brands offer enough transparency into sustainability efforts, and 68% are willing to pay more for sustainable apparel. In a similar survey conducted by Ashkin Group, 54% of respondents said that they read about a company's sustainability practices, and 70% said they would take their business elsewhere if they learned a company was not operating sustainably.
It isn't just consumers who are demanding that companies offer more sustainable business practices.. According to DHL's Logistics Trends Radar, 79% of institutional investors say that environmental, social, and governance (ESG) initiatives are part of their fiduciary responsibility to clients.
What does this have to do with supply chains? Changing consumer expectations about sustainability are making a direct impact on how shippers select their transportation providers. In response, In the logistics industry, companies are now actively trying to lower their carbon footprint. Emissions are tracked by three tiers. Scopes 1 and 2 emissions are produced directly by a company. Scope 3 emissions, on the other hand, are produced by businesses that a company engages with, and that impact its value chain. In other words, the suppliers, manufacturers, and carriers that a company contracts with.
As social pressures build for retailers to engage in sustainable business practices, one area where companies are attempting to lower their carbon footprint is within transportation network.
The State of Freight Forwarding's Approach to Carbon Emission Reduction
As retailers and manufacturers come under increasing scrutiny, they're turning to their logistics partners to help lower Scope 3 GHG emissions. However, there's still work to do. Data from the International Energy Agency shows the logistics industry currently accounts for 11% of carbon emissions, a number which could double by 2050.
And while regulatory and social pressure are collaborating to change that trajectory, their remains challenges within the logistics industry to make a meaningful impact on carbon emissions. For example, In the report, "Making Supply Chain Decarbonization Happen," McKinsey & Co. outlined some of the biggest obstacles in the way of reducing emissions within the logistics industry. That includes cost management, lack of carbon accounting standards and protocols, and a general lack of industrial optimism towards green initiatives.
Another big challenge comes from collecting and evaluating emissions data. According to McKinsey & Co., "Emissions calculations are usually based on rough activity data and standard (meaning average) emission factors. In the world of financial accounting, this level of approximation would be the equivalent of companies using average industry costs and revenues to prepare their annual financial statements." Companies lack the tools or the standards to accurately track their carbon footprint.
Emission standards are constantly changing based on a number of factors, which includes the type of fuel, weather, vessel size, and shipping lane. Calculating emissions can be complex but it's something that shippers need to be conscious of moving forward, and something they should expect from their freight forwarders.
The Role of Freight Forwarding Companies to Reduce Carbon Emissions
Today, there are freight forwarders that can help customers monitor and reduce their GHG emissions. The right combination of data and reporting can empower shippers with information they need to meet their Scope 3 emissions goals.
One of the ways that shippers are reducing their emissions is through data tracking. There are thousands of data points that shippers can use to estimate their carbon footprint. Some freight forwarders offer technologies that help companies process and interpret data that can help them become more sustainable.
Communication from the forwarder to their shipper customers who have initiatives to lower carbon emissions is equally important. As carbon reduction continues to rise as a goal for many companies, phrases like "emissions transparency" will become more common in the shipping industry. This term refers to synthesizing emissions data into a format that is clear and easy to understand.
Having an emissions data framework is only the beginning in calculating accurate carbon emission data. Here are a few ways that sustainability-minded freight forwarders are putting that information to use:
The first step towards creating a sustainable supply chain is through route optimization. Not only do optimal routes free up carrier capacity, but they reduce overall miles, delivery times, and fuel costs. Ideally, optimized routes would also account for inclimate weather and ocean patterns, in addition to finding the shortest possible shipping lane available. .
The next step is to slow down. Even a 10% reduction in shipping speed could reduce fuel consumption up to 30%. Admittedly, powering down a ship's engine will make a voyage take longer, so it's important to plan leg-specific speeds ahead of time.
Freight forwarders are also utilizing technology to provide emissions visibility, in the form of carbon tracking dashboards and emissions calculators.
In discussions with global freight forwarders Searoutes has confirmed what has long been on the radar and never realized: Forwarders themselves are working to adjust their services and offerings to enable shippers to choose between the fastest, the cheapest or greenest route. In turn, this requires that the forwarder get visibility on carrier level CO2 performance. This evolution of choice based on specific requirements bolsters the mission of freight forwarders making emission reduction not only a strategic priority but a tangible product so that buying and marketing "Green" and "Sustainability" is more than a marketing gimmick, but a true and measurable endeavor.
Reducing carbon emissions is an ongoing group effort between freight forwarders, ocean carriers, and cargo owners. One such partnership is the Smart Freight Centre, a global non-profit focused on reducing greenhouse gasses generated through freight transportation. Through its Clean Cargo initiative, members voluntarily contribute emissions data and share best practices for lowering greenhouse gasses – imagine a sustainability summit between some of the largest ocean carriers, retailers, and freight forwarders in the world. SeaRoutes is proud to be one of them.
11 Tips to Finding a Freight Forwarder that Prioritizes Emission Reductions
Hopefully after reading this, you are sold on working with a freight forwarder who monitors carbon emissions. But the question remains, how do you ensure that you'll find the right partner? Here are eleven tips for choosing a responsible freight forwarder.
Ask about industry expertise
Your cargo, and your business have specific requirements. Do you need cold storage or have particular handling requirements? Which continents do you ship to? Different freight forwarders have different areas of expertise. Don't be a guinea pig. Instead, look for a freight forwarder who's experience aligns with your needs.
Find out which services they offer
Once you know that a prospective forwarder has experience handling cargo similar to yours, it's time to look into the other services they provide.. it's equally important to find out which ports they serve, and how far inland they will move your freight.
Find out how big their network is
Oftentimes, freight forwarders rely on a network of agents at each destination to ensure everything with the shipment goes smoothly. This is especially important in the case there is a delay or does your forwarder have a carrier network at your destination port?
Make sure to look for certifications, too. Freight forwarders are required to have a variety of licenses and certifications, such as the IATA, CTPAT, DHS, or NVOCC, if they are not asset-based. If you ship hazardous materials, make sure your freight forwarder is fully licensed in each state the load will be transported through. ,
Look for association memberships
Check whether your forwarder is a member of any trade associations. Freight forwarders typically have to prove a certain level of efficiency, diligence, or customer care to be admitted to most trade associations. If your provider has been vetted by an association, transportation providers that are members of large trade associations usually means they are respected by other shippers in the industry and will be a reliable carrier for your freight.
Inquire about customer service
Shippers should work with a forwarder that is responsive to requests. Are they easy to reach? Do they provide automated notifications or visibility tools? How easy is it to reach a person? You do not want your main point of contact to be a general inquiry line.
Ask for trade references
When you applied for your job, odds are you had to provide references. Shippers should ask for the same when considering a prospective freight forwarder.
Be sure they have insurance
If it's your job to move cargo across an ocean, you should have robust insurance that covers theft, loss and damage. Carrier liability alone is too limited in its scope. A good freight forwarder will be forthright about their insurance and make it easy to see what that insurance covers.
Multiple service contracts
This simply means that the freight forwarder has relationships with multiple ocean carriers. If space fills up on one vessel, a reliable forwarder ought to be able to find another one.
Market Awareness and Proactive Information Sharing
Were you caught off guard by all the changes brought about by the pandemic? A mark of a good freight forwarder is that they help customers prepare for, and learn how to respond to, dramatic shifts in the marketplace. Freight forwarders should keep up with market dynamics, share their observations, and when necessary, help clients devise new contingency plans.
Ask these questions about carbon emission reduction
Now that you found a forwarder who provides the right service level, see how they consider approaching topics related to carbon emissions. Asking these questions should give you a feel for their commitment to sustainability:
Can the forwarder calculate carbon emissions accurately for all modes and equipment types?
Does the forwarder help optimize shipping networks for total carbon emissions reduction?
Does the forwarder provide data to make better decisions, such as choosing one lane over another?
Does your freight forwarder provide reporting to build up your carbon footprint over time, so you can make a decision what to change?
It is possible to find a good freight forwarder and reduce emissions at the same time. The key is to seek out a partner with the data, technology, and expertise to put a dent in your carbon footprint. SeaRoutes offers real-time tracking on over 6,000 data points with API integration. Our Smart Freight Centre-accredited methodologies go beyond EN16258 requirements to help companies make financially and environmentally optimal shipping decisions.
To find out how tracking and monitoring emissions can help your business reduce its carbon footprint, contact SeaRoutes today.