Smart Freight Centre accredits Searoutes CO2 APIs
In 2021, carbon footprint is on everyone's mind. The Paris Agreement to fight global warming is proof of this. Many industries have joined the cause and are taking part in this common effort. Among them, the logistic industry. As pointed out by Smart Freight Centre, the transport sector represents 23% of global greenhouse gases (GHG) emissions and is the 3rd largest contributor of GHG emissions after industry and buildings. Freight transportation made up for 36% of transport's emissions in 2015 and is expected to double by 2050 without outside intervention.
In this context an increasing pressure from regulation and public awareness pushes the industry stakeholders to take actions. It is a challenge today to compute CO2, as historically so many methodologies have been developed in isolation. Comparing CO2 across different modes of transport can be like comparing apples with oranges. This is the starting point for the Smart Freight Centre, which created the Global Logistics Emissions Council, or GLEC, to make carbon accounting of transport unified across the industry.
About Smart Freight Centre (SFC)
Smart Freight Centre (SFC) is a global non-profit organization dedicated to an efficient and zero emissions freight sector. Their mission is to bring together the global logistics community through the Global Logistics Emissions Council (GLEC) to work towards this.
SFC advises companies on how to develop and implement their company-specific Sustainable Logistics Roadmap using the four 'Smart Freight Leadership' steps: report, set targets, reduce and collaborate. SFC also advocates for supportive policy and programs and raises awareness to accelerate sector-wide action.
Present in Europe, the Americas and Asia, SFC collaborates with existing initiatives, international institutions, partner organizations and experts worldwide. They are positioned to lead and coordinate global efforts due to their dedicated purpose to reduce freight emissions, their subject matter expertise and their established network.
Searoutes and SFC Accreditation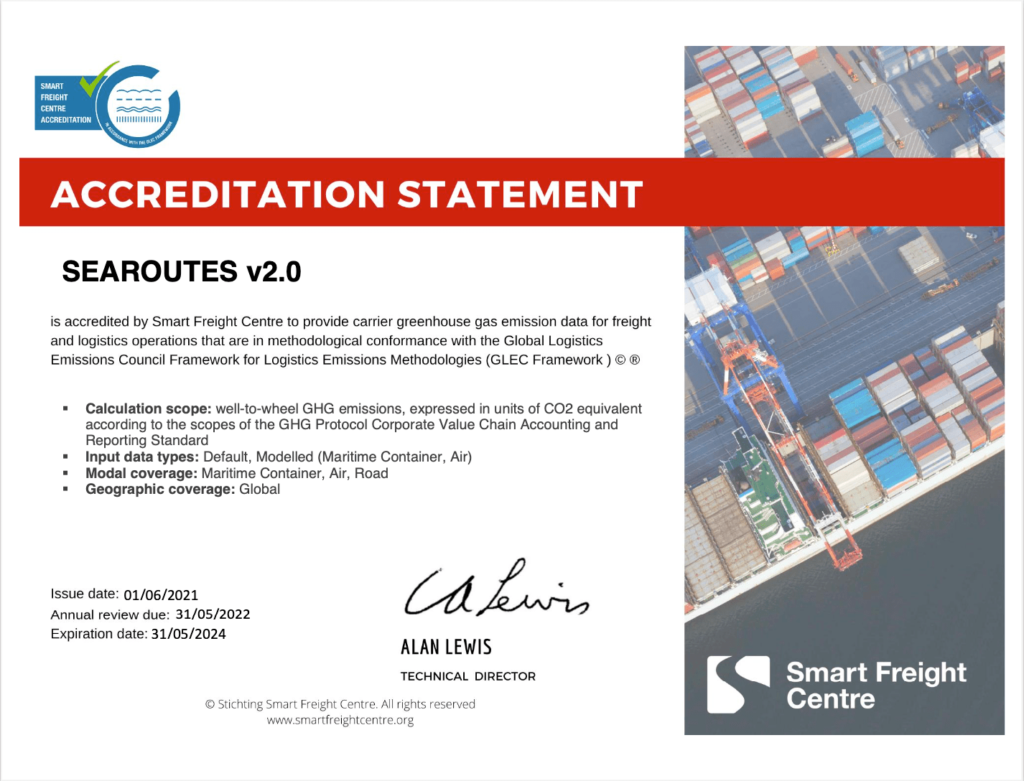 Searoutes methodology to estimate CO2 emissions is accredited by Smart Freight Centre to provide calculations of greenhouse gas emissions for freight and logistics operations. The methodology is in conformance with the Global Logistics Emissions Council Framework for Logistics Emissions Methodologies (GLEC Framework) © ®
Our modeling currently supports the following modes, assets, fuel types and regions: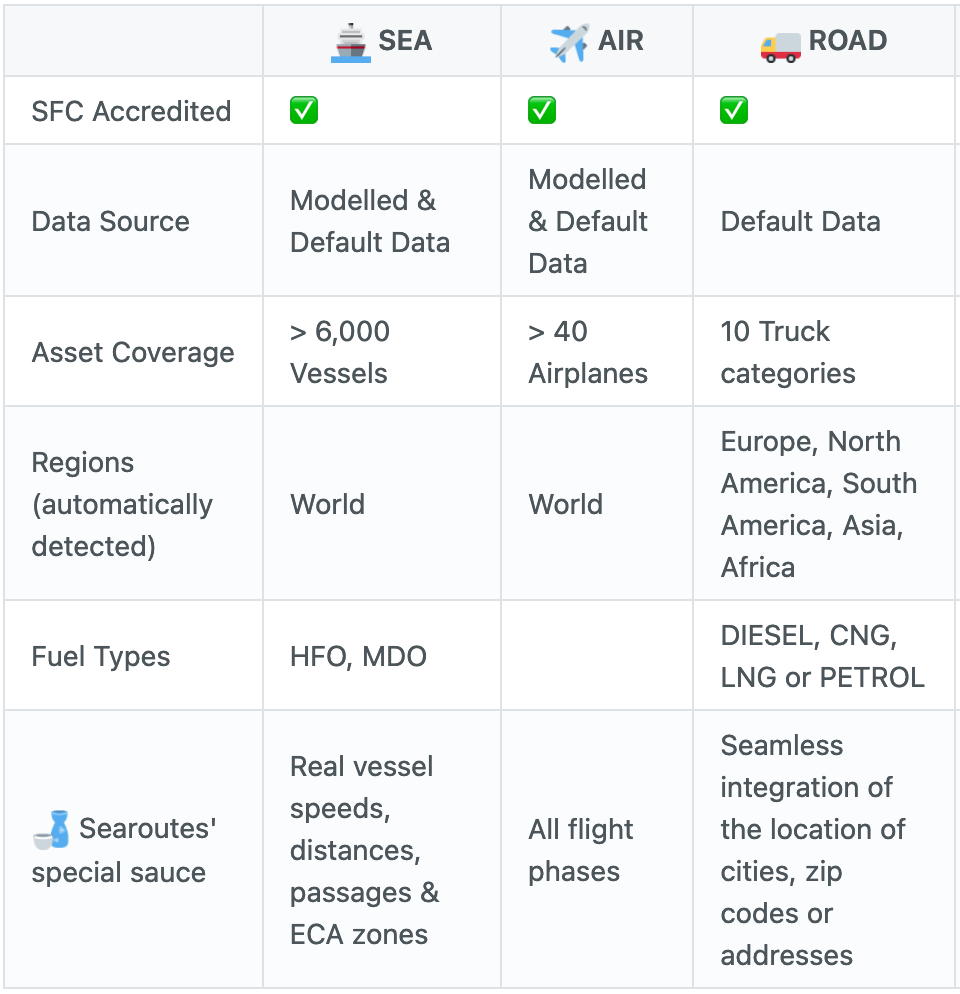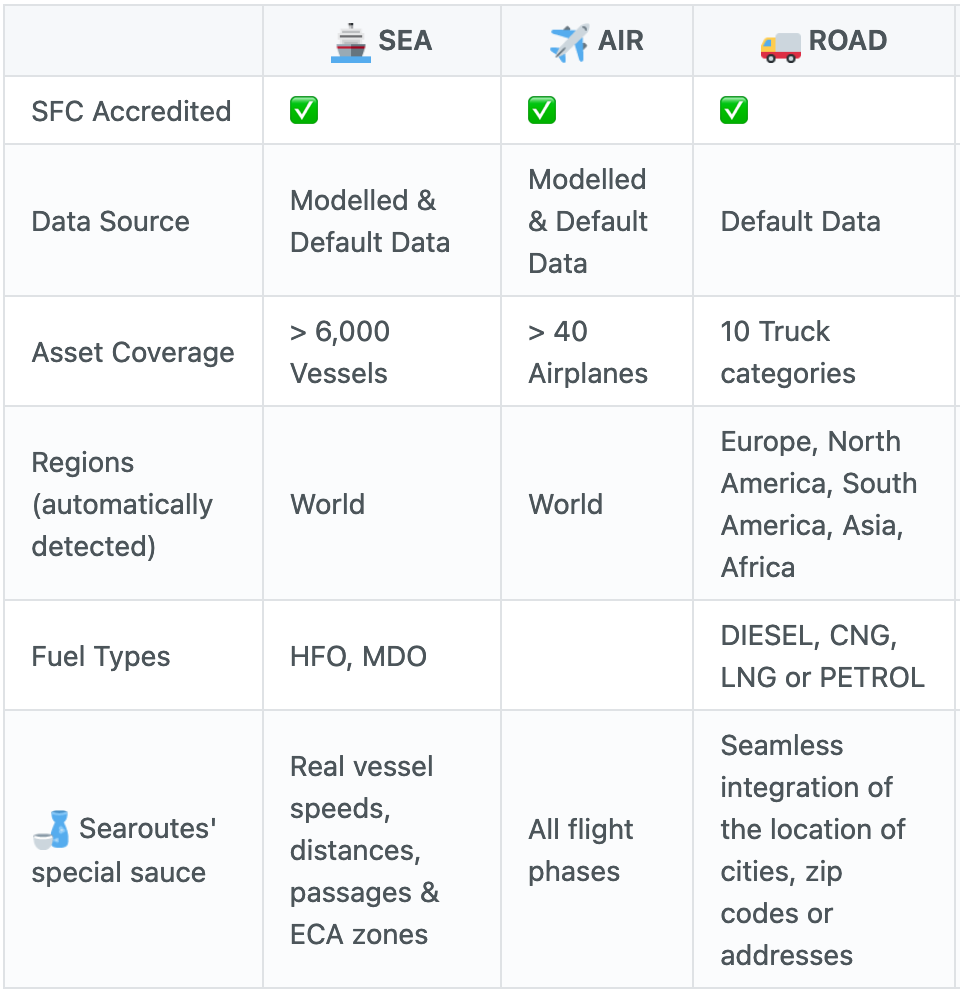 SFC accredited – so what?
We want CO2 emissions estimation to be seamlessly accessible to logistics stakeholders: Carriers, Freight Forwarders 3PL and 4PL and Shippers. We aim to facilitate the implementation of GHG reduction strategies, with granular data, emissions reporting and decision making.
CO2 emission calculations are available via API. You can integrate our API at many touch points into your systems. Depending on the granularity of the data you provide (vessel imo, aircraft IATA or just port / airport pairs), we return CO2 emissions based on representative averages, or detailed modelling.
Searoutes can be used at different steps of your carbon footprint reduction strategy: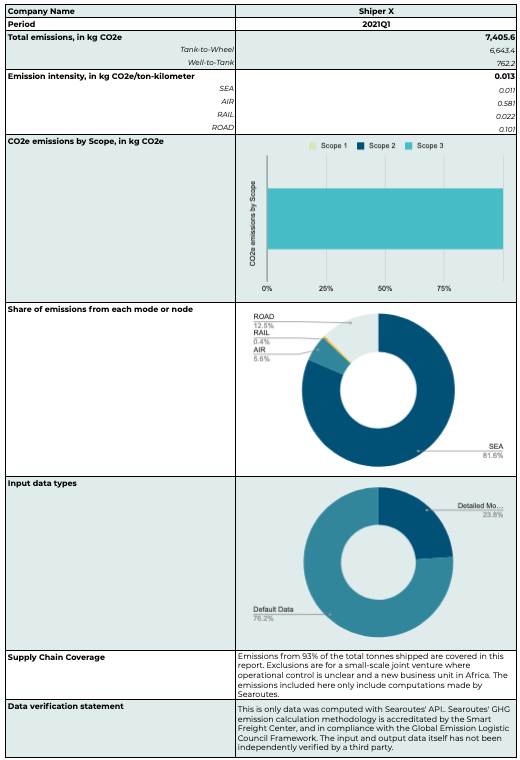 1/ Tender
To compare the services offered by carriers on a from/to pair.
2/ Report
You can share the data from your shipments in batch or directly integrate our API into your systems to create reports, on a monthly, quarterly or yearly basis. The report structure and elements are accredited to be in alignment with the GLEC Framework.
3/ Analyze
You can use our data to simply explore untapped reduction potentials.
In concrete terms…
As a shipper, Searoutes provides you with automated reports, and analytics to compare emission performance per mode, carrier, service, vehicle.
As a freight forwarder, Searoutes adapt to your business, structure and use case: tendering, booking, invoicing and/or reporting.
You are currently working on your CSR strategy and you need a partner to help you find leverages to reduce your carbon footprint ?